3 in 1 Multipurpose Airtight Fridge Storage Organizer
3 in 1 Multifunctional Fridge Storage Organizer/Container

1. Various Functions: Unfold drain tray and use it as the upper base. Fold drain tray and divide the box into compartments.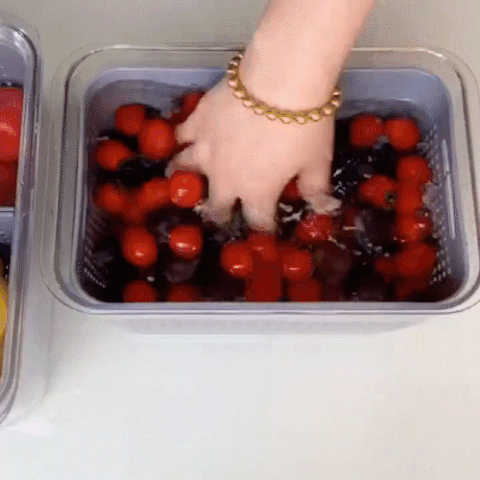 2. Allows Food to Stay Fresh: Storage container feature built-in on-off vent and maintains freshness longer for different foods.
3. Attentive Design: Vent should be turned to "close" for low-humidity items to prevent goods from going dehydrated; Vent should be turned to "open" for high-humidity items to allow some airflow in the box.
4. Space Saving: Easy to store; can be used in most refrigerators, cabinets, drawers. MEDIUM 19.8 X 13.3 X 11.4 cm
5. Lightweight & Safe: This is a favorite for most people because it is lightweight, making it great for to-go lunches or meal preps. Made from high quality and durable, BPA-free plastic this container is perfect for storing punnets of strawberries, blueberries, raspberries, and more.
Material: PET + PP + TPRTemperature resistance: -20 degrees -120 degreesFunction: Wash + Drain + Keep Fresh