14 IN 1 FOLDABLE PUSH-UP BOARD | TrackBoard™ 2021
OBTAIN MAXIMUM WORKOUT EFFICIENCY WITH TrackBoard™ 2021
Rated The #1 Home Exercise Equipment of 2021!
Want to get in shape without the cost of the gym, and spending hours working out? The Push-up Board is the ultimate workout machine, working over 200+ muscles in your upper body and core, whilst burning your fat away. 
The Push-up Board is an innovative color-coded push-up board training system that strengthens and sculpts the entire upper body (chest, shoulders, back, and arms) while engaging your total core.
With just 30 minutes a day, you will develop lean muscles, build your overall strength and core, burn fat away, and lose weight.
DO NOT DO THIS…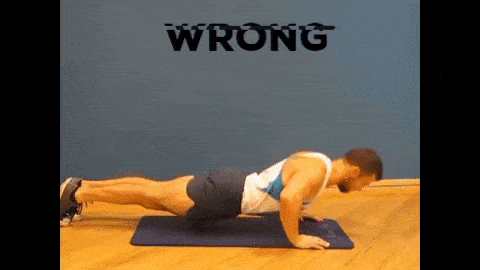 DO IT THE RIGHT WAY...
Color-Muscle Match Up
❤️Red > Shoulders
💚Green > Triceps
💙Blue > Chest
💛Yellow > Back(Stabilizing)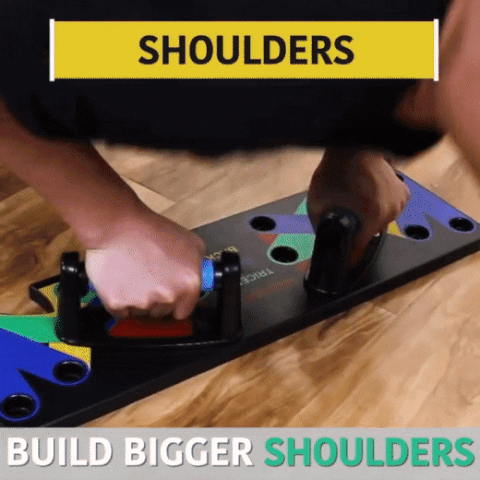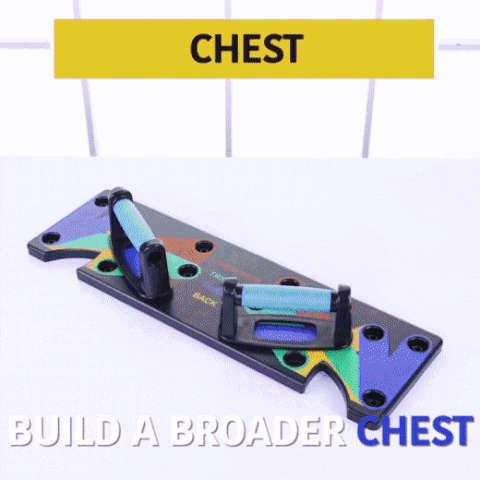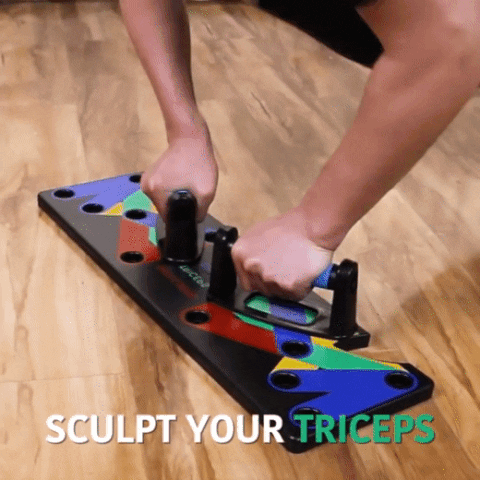 FEATURES
Prevents bad form and develops sculpted arms

 

- Conforming to the predefined positions on the push-up board allows you to have perfect form, minimizing the likelihood of injuries and maximizing workout efficiency.
Portable, simple and convenient

 

- Forget the gym, with simple exercises anyone can perform, you can develop those beefy arms from the comfort of your own home!
Heavy-duty durability

 

- Constructed with quality materials, the push-up board is sturdy, durable, and complete with cushioned, non-slip handles for enhanced grip comfort.
Comprehensive coverage of arm exercises

 

- The different color-coded positions target the Pectoral, Shoulder, Latissimus, and Triceps for an all-around strengthening and toning arm workout.
Burn calories and build strength

 

- Apart from gaining arm strength, doing pushups with this system helps you burn calories, lose weight and condition your arms, benefiting your overall health and fitness.
IN THIS VIDEO WE SHOW YOU HOW YOU CAN INSTALL A PUSH-UP BOARD AND USE IT.
 The  14 in 1 Push Up Board is specially designed to maximize your chest, shoulders, back, and triceps in an all-in-one simple to use push-up board. You can now work for any muscle group in the upper body in countless ways, and get the results (and look) you want quickly and effectively, in the comfort of your own home.
--- NO WEIGHTS - NO GYM- NO PROBLEM ---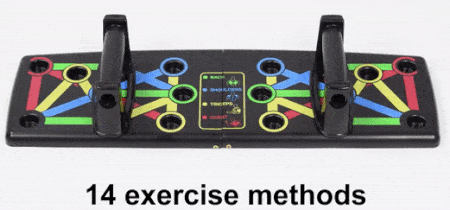 SUITABLE FOR ANY FITNESS LEVEL
If you're into fitness, weight lifting, training, and more, this device is your new MUST-HAVE in-home exercise equipment.
This easy and effective exercise board is a fun way to strengthen and tone your entire upper body and core while eliminating any uncertainty! It's lightweight and durable and offers a thorough workout wherever you choose to use it.
Whether you're at home or at the office, you'll find that it's convenient and easy to strengthen your body and replace your gym equipment using this training device. It's fun for the whole family!
SPECIFICATIONS:
Material: ABS
Maximum user weight: 150kg 
Weight: 1300g
Handles: 2